Interested in a 4 Door Early Bronco?
Now Ford Bronco lovers can regain the timeless appearance of the 50+ year-old classic Early Bronco design (1966 to 1977) while experiencing Ford's 21st Century innovative engineering and modern technology, with a custom-built 4 Door Early Ford Bronco restomod designed by Thomas Kincer of Krawlers Edge!
Krawlers Edge (KE) has designed a custom Bronco Tube Chassis for the early Ford Bronco to provide more room inside to inside of the frame rails to accommodate engine conversion swaps and a variety of other customizations.
All this while keeping the stock Bronco look — however, the occasional fanatic who can't help but kneel to take a closer look will get a sleek surprise!
Krawlers Edge Early Broncos are one-of-a-kind, based on each individual's wants and needs!
Are you looking for a vehicle for off-road camping and hunting? How about using it as a trail rig or a rock crawler? Maybe you want a knock-your-socks-off show truck; or just a fun vehicle for running errands to the grocery store and golf course. Krawlers Edge Restoration and Custom Fabrication can build it for you! These custom-built Broncos are KE's pride and joy and we are sure they will be yours too!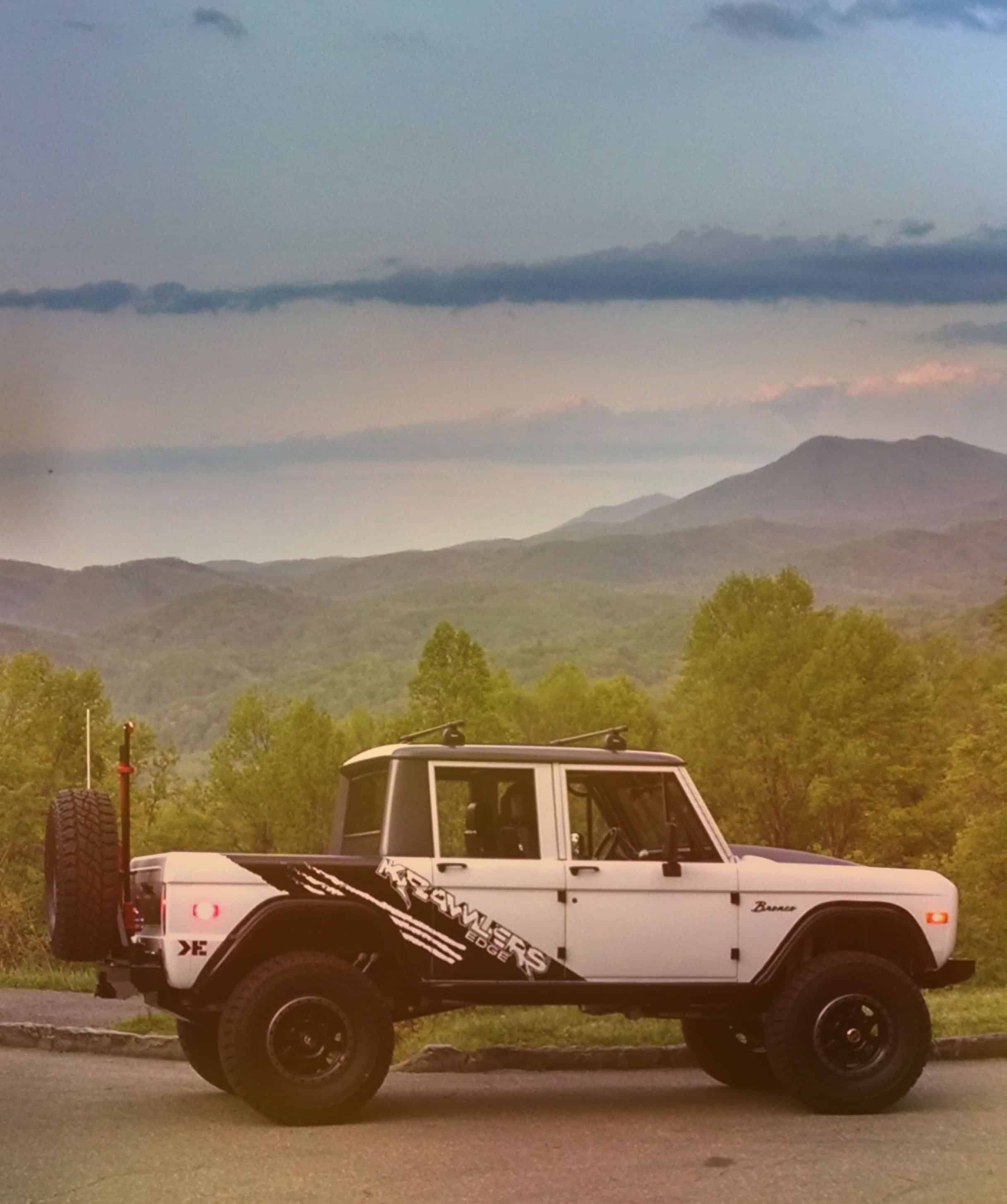 Hit the trail and reach all the places you've never dared to go.
Call Krawlers Edge at (865) 297-3478 and come in for a sit-down consultation to determine what YOU, the customer wants in your 4 Door Early Ford Bronco Restomod.
KE captures your personality and your spirit, as well as your needs. Everything under the hood will be custom-made according to your requirements:
Choose from KE's Custom Tube Chassis that lets us build a 4-door version of the 2-door classic.
Add a half or full cab to that 4-door re-design!
Choose from a modern crate engine or diesel power plants
Choose from a manual 5-speed transmission to 6-speed automatics
Choose from a range of stock suspensions to full-on custom air ride suspension
Choose your interior from the seats to fabrics, carpeting, air conditioning, 5-point seatbelts for off-roading, and modern gauges and instrumentation
Choose your exterior color, trim, lights, custom bumpers, winches, and select from a variety of truck accessories and graphics
4-Door Version of a 2-Door Classic Bronco
One of the unique aspects of Thomas' tube chassis design is his ability to build a 4-door version of the 2-door-only Early Bronco design, which meets the standards of today's 4-Door SUVs.
Even more enticing, you can choose a half or full cab to that 4-door re-design!
Carefully designed and engineered to give you the ride and experience expected by today's SUVs, every aspect of a Krawlers Edge Bronco Restomod offers performance, safety, and comfort using modern technology, complete with the nostalgia of an Early Bronco!
Solidly built in-house, the custom 4-door modification is in itself a major fabrication undertaking, but one that will have Early Ford Bronco enthusiasts doing a double-take when they see it can be made to look exactly like it should have looked had Ford built a 4-door half and full cab model!
Nostalgic Styling with Advanced Engineering
Knowing there was a need to replace outdated drivetrains with advanced automotive technology and high-performance parts used in modern vehicles, KE embraced the Restomod concept of restoring with modification — that is, completely reviving the original look while modifying it with all the latest instrumentation, power enhancements, and modern bells and whistles, to create a much better ride!
Starting at $250,000 production of the 4-door early Bronco is limited. Production times can take 12 to 18 months.
Please contact us if you are interested in your own custom-built Restomod Bronco by Krawler's Edge!
Ready to create unforgettable experiences?
Krawlers Edge is the premier innovator in Early Bronco restoration and fabrication with the best CNC mandrel bent custom Early Bronco chassis in the business.
© 2023 Kincer Engineering & Design, LLC