Stainless Steel True Shorty Coyote Early Bronco Headers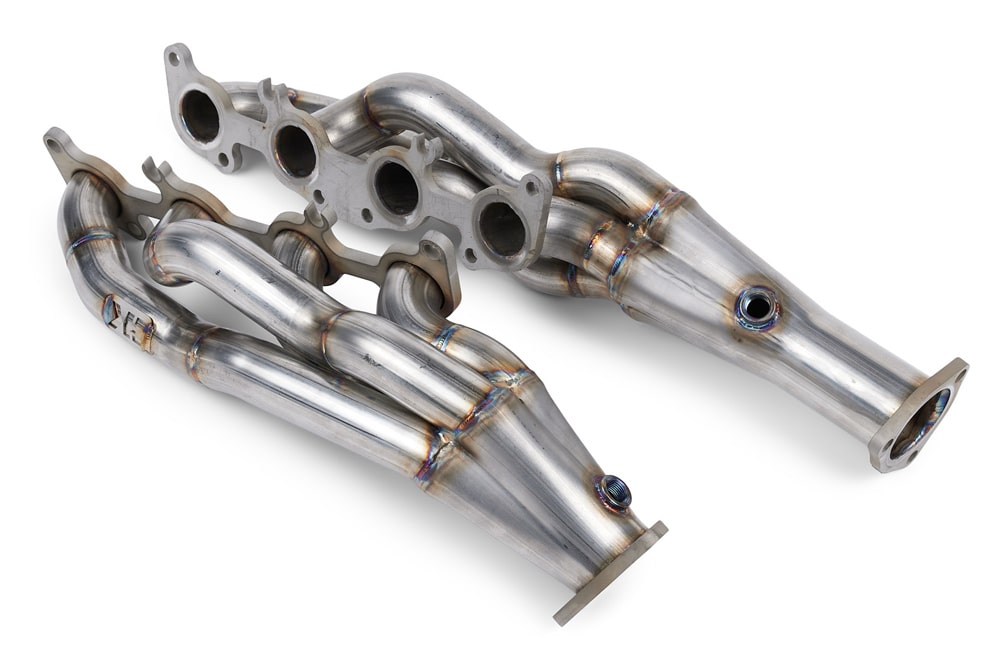 Step up your classic Ford Bronco's performance with the Stainless Steel True Shorty Coyote Early Bronco Headers by Krawlers Edge for only $1,995!
If you're seeking to truly unlock the potential of your Classic Ford Bronco, upgrade to our high-performance headers.
Headers play a pivotal role in your vehicle's exhaust system, directly impacting performance and efficiency.
Premium Stainless Steel Headers for Classic 66-77 Ford Bronco
Our Stainless Steel True Shorty Coyote Early Bronco Headers offer superior exhaust gas management. They are designed to reduce back pressure and improve the flow of exhaust gasses, enabling your engine to breathe more easily. The result? Enhanced horsepower, torque, and overall engine performance.
Imagine your Bronco with improved acceleration, more power under the hood, and even better fuel efficiency. That's not all – these headers are crafted from corrosion-resistant 304 stainless steel, ensuring they stand the test of time, even under harsh conditions. This means not only a performance upgrade but also a durable, long-lasting solution.
Don't wait – make the leap and upgrade your headers today. Give your classic Ford Bronco the breath of fresh air it deserves, and experience the thrill and satisfaction of a more powerful, efficient drive with Krawlers Edge headers.
Expertly crafted with the utmost precision, these headers deliver unrivaled performance and perfect fitment with a Coyote in your Early Bronco. With an outstanding list of features designed for optimum efficiency and power, these headers are a cut above the rest, redefining the standards for Ford Bronco restoration and modification.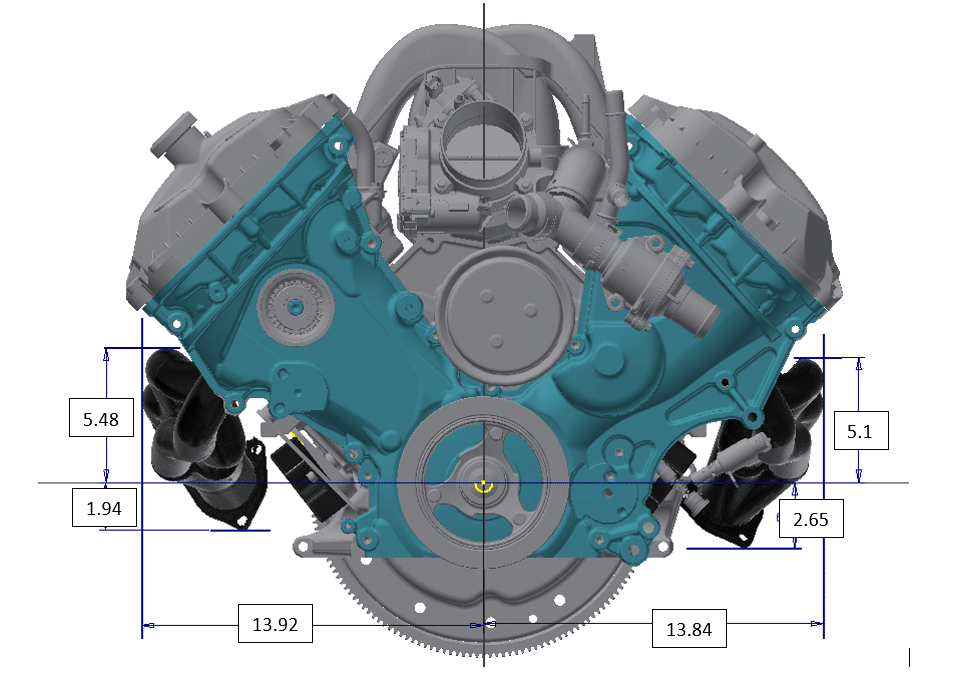 True Shorty Coyote Early Bronco Headers: The Ultimate Upgrade is in The Details
Crafted from 16ga 304 stainless steel, the True Shorty Coyote Early Bronco Headers are designed to provide lasting endurance and strength. This high-grade stainless steel material is renowned for its corrosion resistance, ensuring that these headers remain resilient even in harsh driving conditions. No matter what roads you traverse, these headers are engineered to maintain their exceptional performance, proving their superiority and reliability.
Elevate Your Driving Experience with Our Bronco Headers
Intricately designed for a perfect fit, each header is CNC mandrel bent. This innovative process provides a consistent diameter throughout the length of the tubes, enhancing the flow of exhaust gases and thereby improving your Bronco's engine performance. This, in combination with the four 1.75″ tubes merging into a 2.5″ collector, allows for a smooth exhaust flow, reducing back pressure, and enabling your engine to breathe better. This translates to an improvement in horsepower and torque, enhancing your driving experience like never before. 
You have to experience it! It makes such a difference.
The full TIG welding of these headers further reinforces their quality and durability. 100% TIG welding guarantees a solid construction, ensuring that these headers are built to last. This robust welding process assures you of a leak-free and crack-resistant performance, increasing the longevity of your headers and saving you the hassle and cost of frequent replacements.
Our Coyote headers feature O2 bungs welded in, catering to your Bronco's emission control and helping maintain efficient engine performance.
O2 bungs, also known as oxygen sensor bungs, are small components in your vehicle's exhaust system designed to house the oxygen sensors. These sensors measure the amount of oxygen present in your vehicle's exhaust gases as they exit the engine.
The data collected by the oxygen sensors is crucial for maintaining optimal engine performance. It helps the vehicle's engine control unit (ECU) determine the air-fuel mixture in the combustion process. If there is too much or too little oxygen in the exhaust gases, the ECU will adjust the amount of fuel injected into the engine, ensuring efficient combustion and reducing emissions.
This improves fuel efficiency and engine response, reinforcing why these headers are an excellent choice for your vehicle.
That's why Kincer Chassis has chosen our headers to use in their Coyote Chassis builds!
WHY CHOOSE OUR COYOTE HEADERS?
The True Shorty design is yet another compelling feature of these headers. This design aids in easy installation, saving you time and effort during the fitting process. But that's not all – the True Shorty design also enhances the appearance of your engine compartment, making them a perfect fit for your 1966-1977 classic Ford Bronco.
With installation hardware included, setting up your new headers is a breeze. Our comprehensive package ensures you have everything you need to seamlessly integrate these headers into your Classic Bronco, giving you an uncomplicated, straightforward installation experience.
So why choose our Coyote Headers? 
Because at Krawlers Edge, we understand your vehicle's needs. Our headers are specifically engineered with OEM frame clearance in mind, ensuring a perfect fit for your classic Ford Bronco. You deserve top-quality, durable, and efficient products that elevate your vehicle's performance to new heights.
Skip the hassle of trying to make subpar headers fit in an OEM frame (trust us – we've tried), and go with our specifically engineered option for a seamless install.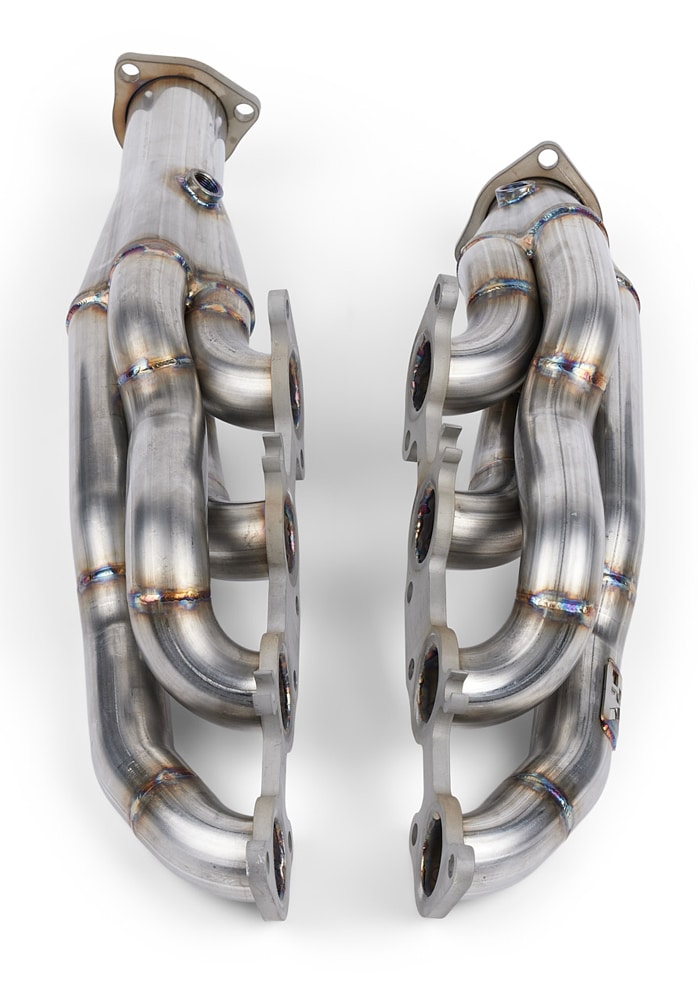 Exhaust Header Designed for Efficiency and Power
These Stainless Steel True Shorty Coyote Early Bronco Headers are the best headers for a 1966-1977 Classic Ford Bronco. We've worked hard to give you the best shorty headers with mounting hardware to make it easy for you to be able to install these yourself!
They deliver a unique blend of durability, performance, and ease of installation, setting them apart from the competition.
Headers are important for your Bronco because they improve engine efficiency and can also contribute to better fuel efficiency. When the engine runs more efficiently, it requires less fuel to produce the same amount of power, thus improving the overall fuel economy of your Bronco!
You are investing in a product that not only enhances your vehicle's performance but also stands the test of time. Trust in Krawlers Edge for your Bronco's needs, and experience the difference of quality, precision-engineered products.
Don't have an Early Bronco, but need a quality, tight set of headers – these could work for you!
These are some of the tightest coyote headers on the market.  If you have a specific vehicle that you are trying to fit a coyote in, and are having header clearance issues, this could be your solution.  See the images below to evaluate these for fitment.
Ready to create unforgettable experiences?
Krawlers Edge is the premier innovator in Early Bronco restoration and fabrication with the best CNC mandrel bent custom Early Bronco chassis in the business.
© 2023 Kincer Engineering & Design, LLC