CUSTOM EARLY BRONCO CHASSIS
Our Early Bronco frames are form and function combined. The Krawlers Edge custom T2 Early Bronco chassis is the ultimate in aftermarket performance for 1966-77 Broncos. This KE custom Early Bronco Frame also starts as fully CNC Mandrel bent 2"x4" boxed frame rails with .188 wall (3/16") which eliminates chassis flex. We also simplified installation on the T2 chassis by designing it to use all factory body, bumper, and suspension mount locations. Mount locations can be customized for different suspension options. The custom chassis has been designed to be 2" wider inside to inside the frame rails to allow more room for modern drivetrain applications. i.e. Coyote 5.0, 4BT diesel, 351W, long tube headers, and clocking of Atlas transfer cases.
WE'RE MAKING THIS EASY FOR YOU!
SO EASY.
And if you still have questions, we know we'll have the answers.
The Krawlers Edge Custom T2 chassis for 1966-77 Early Broncos.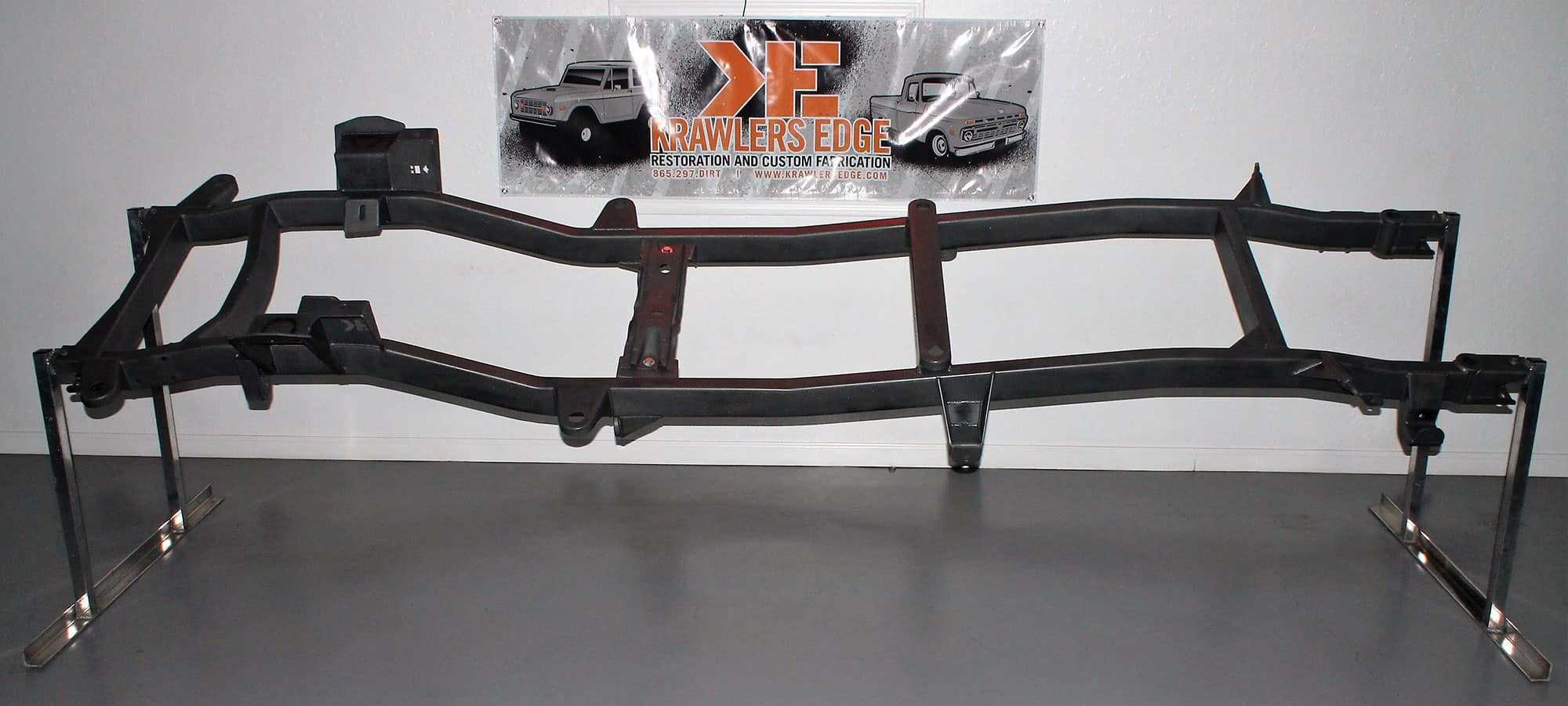 Standard Features on the T2 custom Early Bronco Chassis:
• CNC Mandrel bent boxed design
• 2"x4" x .188 wall custom fabricated frame rails
• 2" wider than stock, inside to inside frame rails
• Stock body, bumper, and suspension mount locations
• 1967-1977 stock shock locations
• Utilizes stock location for power steering box
• Custom middle cross member with E-brake mount integrated
• Front cross member w/ 1" extra clearance to oil pan
• Rear cross member w/1" extra clearance to differential housing
• Engine and transmission mounts in stock location for SBF and C4 (included adapter needed)
• Designed to use 23-gallon aftermarket gas tanks
Ready to create experiences?
Krawlers Edge is the premier innovator in Early Bronco restoration and fabrication with the best CNC mandrel bent custom Early Bronco chassis in the business.
© 2019 Kincer Engineering & Design, LLC