Classic Bronco Parts For Sale – 5 Ways to Upgrade Your Vintage Bronco and Increase Its Value
At Krawlers Edge we build long-lasting classic Bronco parts and we're truly passionate about the early Ford Bronco, the legendary off-roaders produced between 1966 and 1977 that have a huge following!
We understand your love for these iconic vehicles because we love them too and we are here to ensure your classic Bronco not only endures but thrives with our meticulously crafted Ford Bronco parts and components. 
We're in the business of bringing your Bronco dreams to life, filling your garage with something you're proud of, giving you the chance to live that adventurous life you've always wanted, and transforming your beloved Bronco into a reliable machine fit for daily use.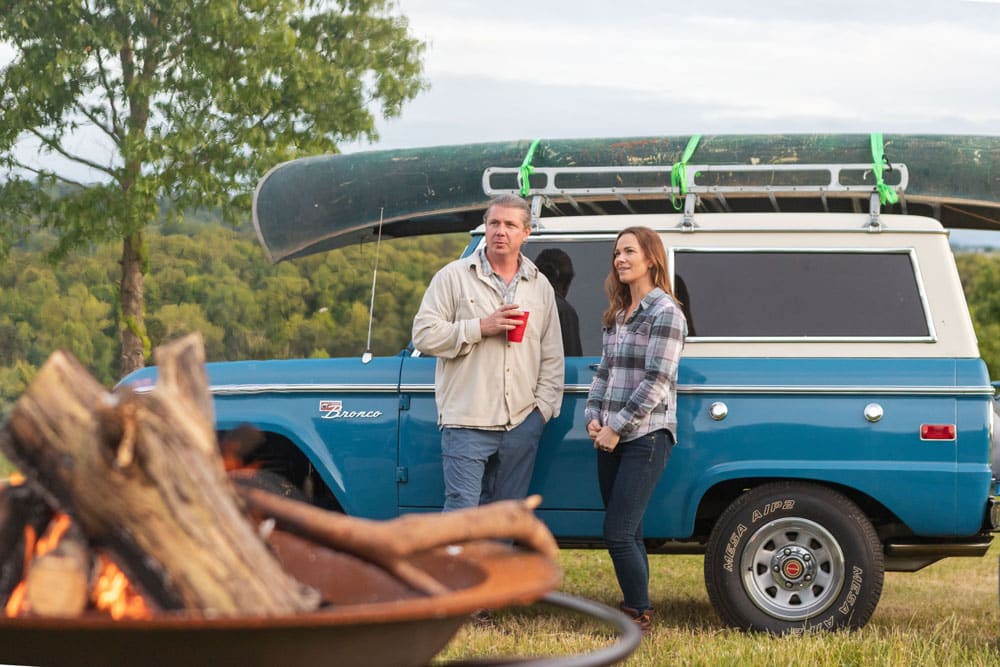 Why Trust Krawlers Edge for Your Bronco Parts?
Unmatched Experience
At Krawlers Edge, we've dedicated years to specializing exclusively in Early Broncos, specifically the models from 1966 to 1977.
This focus has allowed us to build an intimate understanding of these vehicles' intricacies and points of failure and that helps us know we can help you with everything you need.
We've seen it all, done it all, and learned from every Bronco that we've had the honor to work on.
Innovation in Tradition
We respect tradition, but we're not confined by it. We continuously explore new ways to breathe fresh life into these classic models. Whether it's high-performance engine swaps or partnering with Kincer Chassis for new frames and rolling chassis, we bring a modern twist to classic Broncos. This blend of tradition and innovation sets us apart.
We strive to be your source for quality parts at competitive prices for your Ford Bronco.
Quality Above All
We never compromise on quality. Every classic Bronco part we offer is meticulously designed and tested for maximum durability, efficiency, and performance. We source only the highest-grade components to ensure your Bronco is equipped with the very best.
What does that mean for you? You can hit the road with confidence knowing that you've made the right decision on your Bronco upgrades.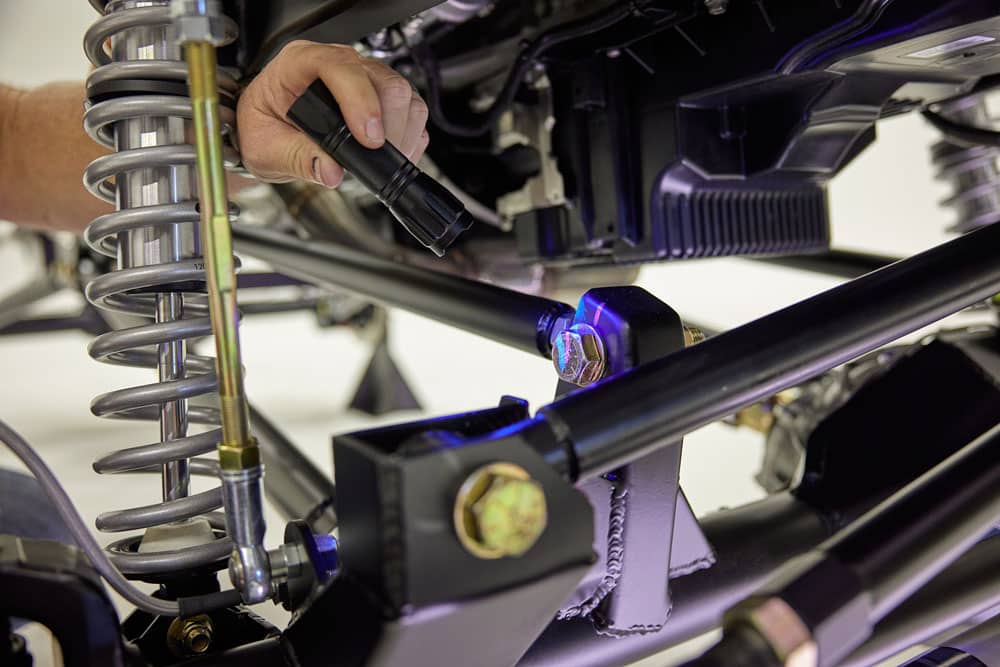 Comprehensive Service
Our expertise extends beyond just providing the right parts, though. We partner with Kincer Chassis to offer a complete rolling chassis build that includes the right parts, powertrain (which is every component that thrusts your car into motion including engine, transmission, driveshaft, axles, and differential), suspension, modern technology, wheels, tires, and true expertise ensuring each component fits seamlessly into your vehicle and enhances its performance. This service has made us a trusted shop for Bronco enthusiasts.
You don't have to waste your precious time, we've done the search for you and we're building a variety of parts to make your life easier.
Passionate Team
At the heart of Krawlers Edge is a team of passionate Bronco experts. We're not just mechanics and technicians; we're Bronco lovers who pour our hearts and souls into every vehicle we work on and every part we build. This passion drives our attention to detail, commitment to quality, and an unyielding quest for excellence.
5 Ways to Increase Your Classic Bronco's Value
Your Ford Bronco is not just a vintage treasure; it's also an investment that can yield impressive returns. With carefully chosen upgrades from Krawlers Edge, you can substantially enhance both the performance and the market value of your Bronco. Here are five ways to transform your Bronco into a modern masterpiece while maintaining its charm.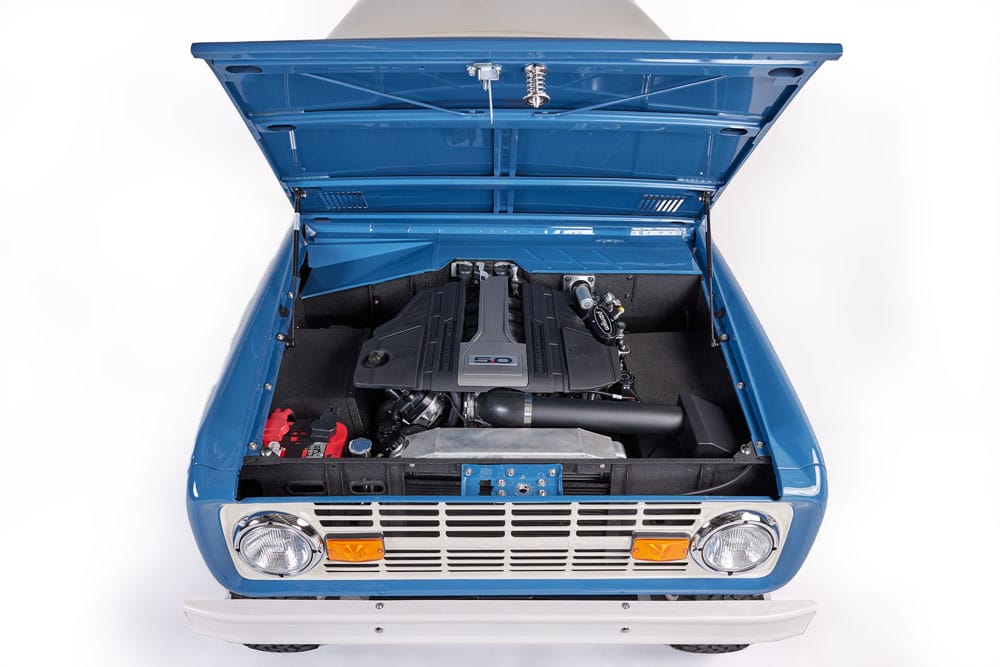 1. Make It Go Faster with Modern Engine Swaps
Our Coyote engine and 2.8 Cummins Turbo Diesel swaps offer a powerful performance upgrade. Interested in upgrading your Bronco with a new engine, let us walk you through the process and we'll make sure you don't miss anything you need to get that upgrade!
This is one of the first places people look when they want to restore or modify their aging Bronco or start fresh in building a new one.
These modern engines enhance your Bronco's power output, fuel efficiency, and reliability, making your vehicle far more appealing to potential buyers. Plus, the novelty of a classic Bronco with a modern powertrain can considerably drive up the price.
2. Make It Drive Better with A New Frame or Rolling Chassis
Upgrading to new frames and rolling chassis, sourced from our trusted partners at Kincer Chassis, significantly increases your vehicle's longevity, suspension, and handling capabilities. This not only improves your Bronco's ride but also adds to its resale value, as potential buyers appreciate these enhancements in safety and control.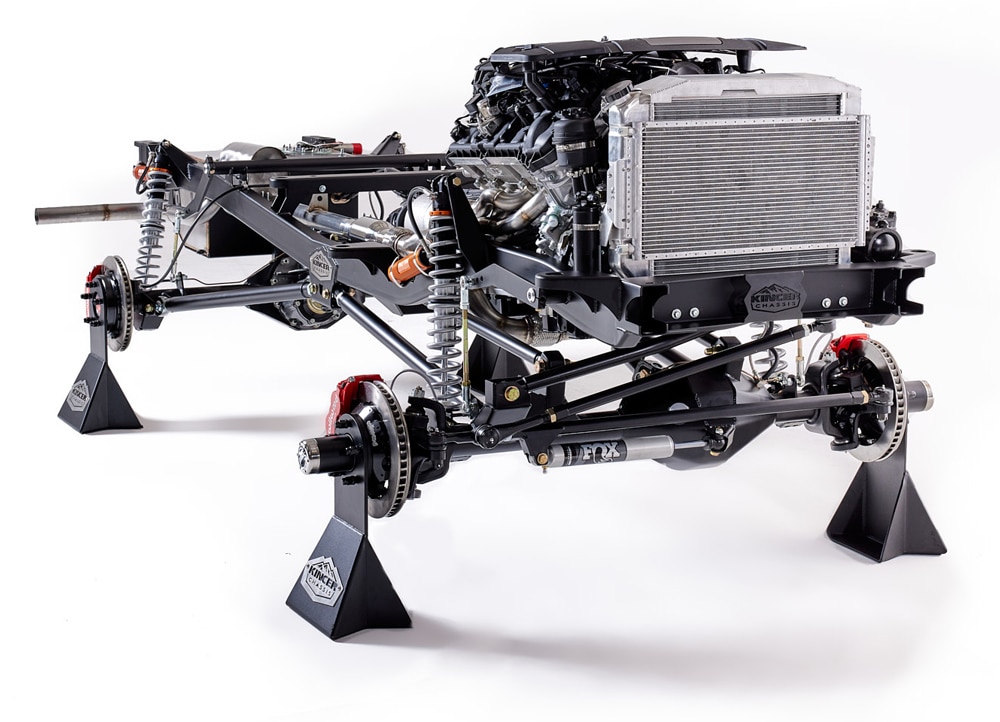 The extra power of a modern engine must be tamed, which is done with a modernized chassis and suspension components.
A bone stock early Bronco actually runs and drives pretty well.  The problem is very few Broncos are bone stock after 50+ years.  As modifications, like lift kits, more power, and bigger tires are added, all your suspension angles get out of whack.  
A Kincer Chassis will correct and improve on these, to make your Bronco drive even better than a stock Bronco.  With our chassis, your suspension link and steering geometries are optimized to provide a great ride and steering feedback, like a modern vehicle.
3. Make It More Practical with an Early Bronco Sport Cage
Our Bronco Sport Cage products are a perfect blend of style, practicality, and convenience. They are constructed from 1.75″x120 wall tubing and are designed to fit with all hard, soft, and bikini tops and allowing for bow retraction without cage interference. 
While they add a sporty edge to your Bronco's aesthetics, they also provide easy interior installation and it includes threaded bungs welded in for 3-point seat belt installation for all four passengers.
We can also include seat belts with your order. These upgrades stay true to the rugged Bronco image, and their modern twist makes your vintage vehicle more desirable, thereby increasing its market value.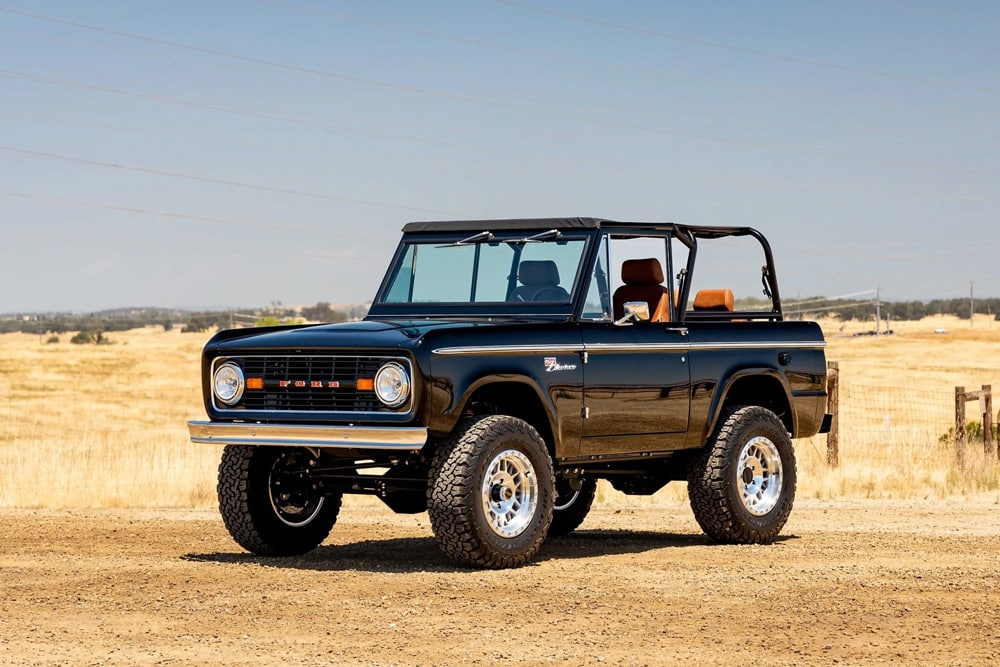 4. Make It Last Longer with Regular Maintenance and Preservation
Preserving the original elements of your Bronco as much as possible, alongside regular maintenance, is key to retaining and increasing its value. Keeping the bodywork in excellent condition, ensuring the interior is well-preserved, and maintaining the original features add a premium to your Bronco's worth. If you're going to leave your Bronco outside, please keep it covered when it's not in use. It can really help preserve it.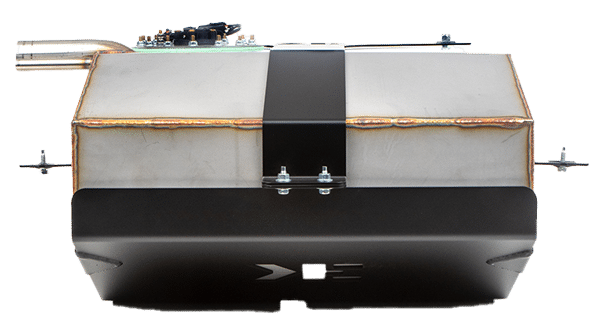 5. Make It Worth More with Authentic and High-Quality Classic Bronco Parts
Using authentic and high-quality parts for any repairs or replacements is critical. At Krawlers Edge, we provide you with high-grade components, parts, and accessories that match the quality of your Bronco, keeping it as close to its original state as possible while incorporating necessary improvements. This not only enhances the vehicle's performance on the road but also ensures that its value remains intact.
Like our 23 Gallon Stainless Steel Fuel tank for the Early Bronco.
By employing these upgrades, you're not just revamping your stock Bronco for personal enjoyment. You're increasing its desirability and market value, ensuring your love for this classic gem turns into a profitable venture if you ever decide to sell. You'll have offers rolling in, but you might just decide it's better to keep it. 
We've heard the stories from all the people that sold and regretted it later saying that no price was worth losing the memories that they made in their Bronco. It really can really add to your quality of life. Not sure you'll find any other brands like it.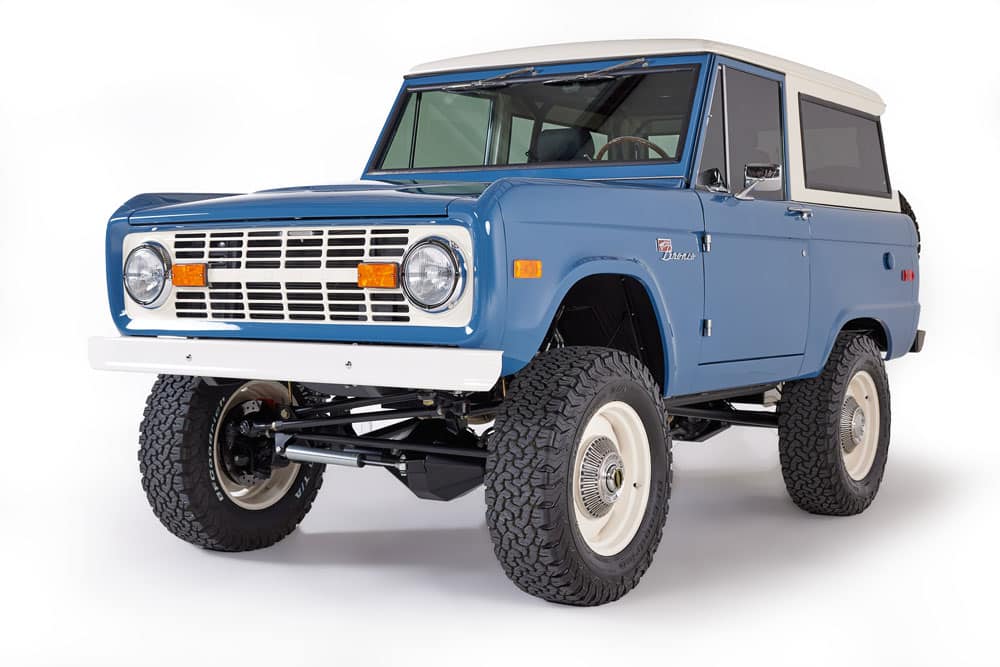 FAQs: All Things Bronco
What Transmissions Came in the Early Bronco?
Three-Speed Manual Transmission
When the Bronco was introduced in 1966, it was equipped with a standard "three-on-the-tree" manual transmission. This was a three-speed column-shifted unit, meaning the gear shifter was located on the steering column. This type of transmission was quite common in vehicles of that era.
C4 Automatic Transmission
In 1973, Ford introduced the option for a C4 automatic transmission in the Bronco, a three-speed unit well-regarded for its durability and simplicity. This was a significant shift, marking the Bronco's transition to automatic transmissions and serving a wider range of drivers.
Four-Speed Manual Transmission
Also in 1973, Ford made available a four-speed manual transmission, offering an extra gear for better power distribution and fuel efficiency. This transmission became an option for those who preferred the control of a manual gearbox but wanted an additional gear for versatility.
How Many Ford Broncos Were Made in 1966?
As the first year of production, a total of approximately 23,776 Broncos were made in 1966, marking the beginning of an automotive legend. The first generation Bronco was released in three versions or "body styles". The first Bronco catalog included the Roadster, the Sport Utility, and The Wagon. These were Ford's answers to compete with other brands of trucks like the Jeep CJ and the International Harvester Scout.
What Motors Were in an Old Bronco?
The first-generation Broncos were typically equipped with either a 2.8L straight six-cylinder engine or a Small Block Ford V8 engine (289 or 302). 
However, at Krawlers Edge, we offer upgrades to more power and more modern 5.0 Coyote engines or the 2.8 Cummins Turbo Diesel engines. We also support 2.3 Ecoboost engine swaps, which are a great balance of power, economy, and cost.
What is the Rarest Year of the Ford Bronco?
The 1966 Ford Bronco Roadster is often considered the rarest Bronco made by Ford.
How Much Did the Early Broncos Cost New?
In 1966, the basic model of the Ford Bronco had a price of around $2,194. But given its ever-growing popularity and the rarity of well-preserved models, the price and the value of these classic beasts have significantly increased over time.
Experience the Krawlers Edge Difference
At Krawlers Edge, we're more than just Bronco parts. We're a dedicated team, committed to helping you realize the untapped potential of your Bronco while keeping its classic look. 
With our upgrades, your old friend will not just be roadworthy but will be the truck that makes all your friends jealous with its classic charm and modern functionality. Experience the joy of rediscovering your Bronco, and let it become a part of your everyday life once again.
Give your Bronco the edge it deserves!
Ready to create unforgettable experiences?
Krawlers Edge is the premier innovator in Early Bronco restoration and fabrication with the best CNC mandrel bent custom Early Bronco chassis in the business.
© 2023 Kincer Engineering & Design, LLC